Teckedin FAQs
Updated On 21 Nov 2020

2 Minutes To Read
---
Teckedin wants to be the first site that Business Technology Users visit each morning for news, trends and information. We think of ourselves as a virtual library or mall, where you can window shop or dive in, depending on your time and needs.
What makes your platform unique?
No web tracking or algorithms running. You will see the same results that someone else sees.
We offer a public-facing knowledge base and a membership backend. The membership site offers personlized services like saving content to a personal vault, saving vendors/provider information and requesting information. There is no charge to be a member.
Everything is categorized, so you can get to what interests you quickly and without distractions.
You will never be asked for your personal information to view content.
Vendors pay a flat monthly fee to add content and have a company profile on our portal. No one can pay extra. There is no bias on what content displays. Content can be sorted by date, reading time, Tech Provider and alphabetically.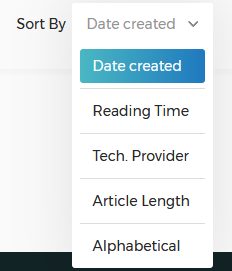 Can I search by content and tech category?
Yes, we have a filter tool that lets you search by categories, content, product name and more. Our webinar, tech news, podcasts and tech site listings are also categorized and sortable.
Once I sign up, will I see advertisements or get email pitches from solution providers?
Our webinar, tech news, podcast and resource pages have one weekly sponsor.
Inside our member site there are no ads. Solution providers cannot pay extra to have their content take priority.
No one knows if you view their content, save it or add a solution to your favorite list. You are anonymous until you choose not to be.
Why would I go to Teckedin when there are numerous other technology sites that are well established?
No ads, no cookies, no web tracking.
We are a Tech-Only information marketplace. We don't cross over and post political or other non-tech content.
Teckedin is a non-social environment. Zero distractions. You search, view and learn in a private environment.
We share both content (blogs, white papers and videos), and a knowledgebase with questions and answers and other technology resources.
We can help with your research needs such as RFP, RFI, vendor and product short listing and vetting. Depending on the effort, there may be a flat fee.
---
https://www.teckedin.com is tied to our backend membership site. Our front-end knowledge base goes to https://teckedin1.document360.io/.
---
Contact Us
(970)-422-8681 or info@teckedin.com
Was This Article Helpful?
---